Covid-19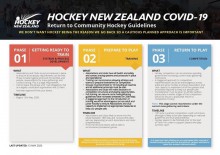 We feel lucky to be able to continue to offer Hockey to our community as our area returns to Alert Level 2. This does however come with some precautions and restrictions as follows-

For turf visits:
Our basic requirements are as follows:
1. Practice public health measures, hand sanitizer will be available so please use this and wash your hands, cough/sneeze into your elbow and keep your distance from others as much as possible.
2. If you are unwell, even with mild symptoms please do not come to the turf. This is very important

3. You must sign in by scanning the government covid tracer QR. We will also have manual forms for those who require.
4. In order to help us comply with gathering and social distancing requirements we ask that you keep the number of supporters for each player to a minimum, particularly in our junior competitions. Each game that is being played is a defined space and with some good common sense and use of space we can safely continue to operate.
We look forward to seeing you all soon!