Clinics
Blue and Gold Clinic
Whether you are thinking about trialling for Under 13, Under 15 and Under 18 Otago Representative teams this year, or just want to learn some new skills and improve your game, the Otago Hockey Blue & Gold Clinics are for you!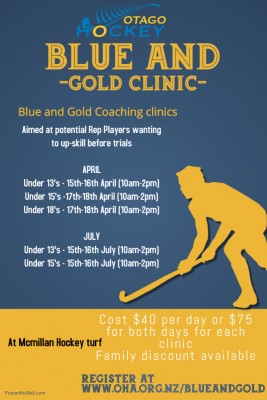 Goal Keeping Clinic 2019;
Otago Hockey are looking after our upcoming goalkeepers. Often Keepers are put in the goal and told to stop the ball, without any real guidance. Otago wants to help our keepers develop the basic skills of goalkeeping. The key focus here will be the technique of keeping
Register at here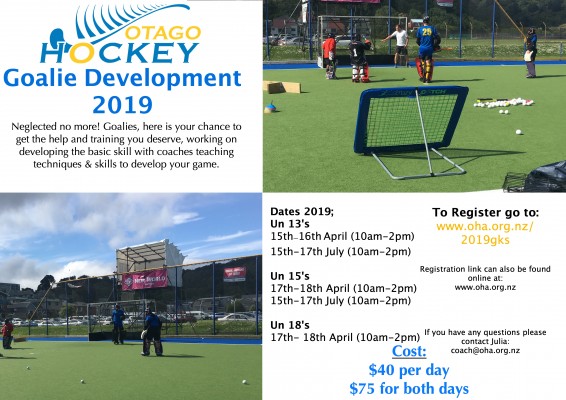 Otago Hockey is proud to announce the upcoming clinic for the pre-season
Yr 5 &6
Pre-season training which will be open to any player interested in up-skilling before the start of the hockey season ending with a local festival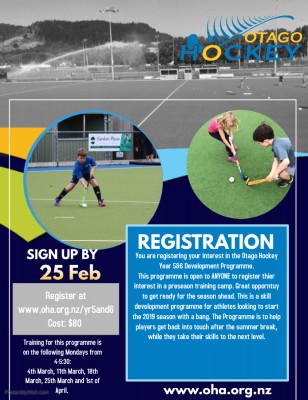 Age Group Programs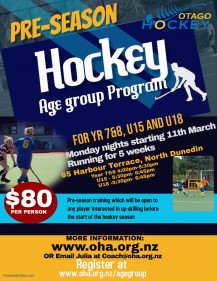 This programme is open to ANYONE to register their interest in pre-season training. This is a great opportunity to get ready for the season ahead. We will be focusing on skill development, both old and new. We hope with a good pre-season build up at this Development Programme the players are well prepared for the 2019 season.
Training for this programme is on the following Mondays;
11th March, 18th March, 25th March, 1st April and 8th of April
Block 1
Groups and times;
Year 7&8 -- 4:00pm-5:30pm
U15 -- 5:30pm- 6:45pm
U18 -- 5:30pm- 6:45pm
Pre-Season Fitness and skill drop-in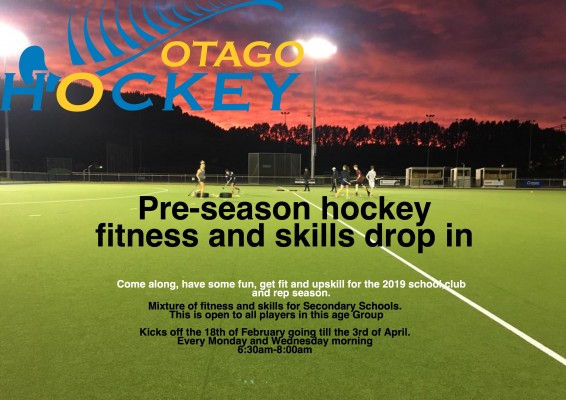 Come along, have some fun, get fit and upskill for the 2019 school, club and rep season.
Kicks off the 18th of February going till the 3rd of April.
Every Monday and Wednesday morning
6:30am-8:00am
Just come on the day and bring $5 cash
Otago Holiday programme
For Hockey and Non-Hockey players. We have fun team building games and activities throughout the week as well as playing and learning some fun basic hockey skills and games. All the kids that attended this programme last year enjoyed it and made some new friends!