History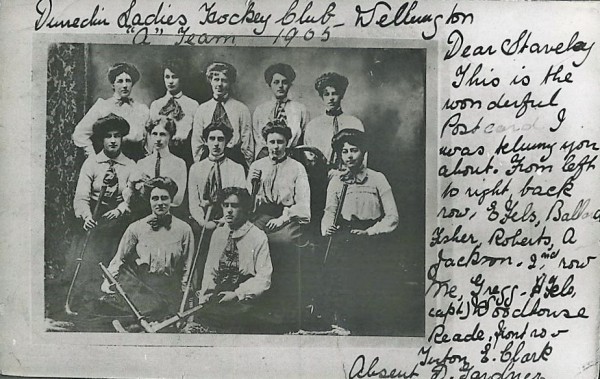 Otago Woman's Hockey Association (1906 - 1990)
On Monday April 2nd 1906, the following clubs that had been playing the game of Hockey since 1904 called a meeting to form an Otago Ladies Hockey Association. These clubs were;
Dunedin
Otago
St Clair
St Hildas
University
Music
The proposal was put forward by Miss Lees (Otago) and was seconded by Miss Woodhouse (Dunedin). The first officers for this meeting were Miss C Clark (Chairwoman) and Miss A Woodhouse (Secretary/Treasurer).
The newly formed association held its first A.G.M. on 23rd April 1907. In 1908, the Canterbury, Otago and Wellington Associations moved that a New Zealand Association be formed.
Clubs affiliated to the Otago Womans Hockey Association
Many new clubs joined the original five clubs that formed the Otago Womans Hockey Association in 1906, and who had been playing the sport since 1904. These clubs were:
1907 Mormons
1908 Mornington, Garton, Green Island, and Ravensbourne.
1911 Albion, Waikouaiti, Glenhaven, North Otago, and South Otago.
1914 St. Joseph.
1915 Taieri, Columba, and Defiance.
1921 Training College and Strath Taieri.
1922 Technical Old Girls, Kaikorai, and Secondary and Primary Schools.
1930 King Edward Technical College.
1932 Waitati.
1933 Otago Girls High School
1934 Brighton, Kings, YWCA, West Harbour.
1935 Dunedin
1937 Bounty, Carlton
1940 Otago, Glenross.
1941 Fern, Seacliff.
1945 Wesley.
1950's Concord, Opoho
1951 Nurses and Kindergarten.
1962 Queens Ex Girls.
1965 St Dominics. Ex Girls Coach.
1969 Polytechnic
1972 Country
1979 Eastern (Between 1979 & 1985)
1985 Albany Woman
1986 West Taieri
Presidents of the Otago Womans Hockey Association
1906-7 Miss C. Clark
1908 Miss A. Woodhouse
1909 Miss M. Tucker
1910-11 Miss Dora Lees
1912-14 Miss M. Allen
1915-20 Mr G.R. Ritchie
1921-34 Mrs R. Hudson. (12 years, resigned 27/3/1934)
1934-39 Mrs Walter Ross
1940-46 Miss E. Sunday
1947-54 Mrs R. Quaid (Resigned 5/7/1954 to go to Wellington)
1955 Miss C. Middleton
1956-57 Mrs. E. Sonntag
1958-71 Mrs Rene Scott
1972-73 Mrs N. Stoddart (Moved to Christchurch)
1974-75 Mrs R. Scott
1976-77 Miss F. Lobb
1979-80 Mrs M.Jenkins
1980-85 Miss A. McGregor
1986-87 Carolyn Gaston
1988-90 Myrie Jenkins
History of the Otago Womans Hockey Association
Matches were played at Forbury Park, then Ocean beach Domain, Logan Park, North Ground and from 1929 at the Oval.

1911 First inter-provincial matches played. The games were played on Carisbrook and entry was 6 pence. Mr Hellyer was the first representative referee and the Otago Ruby Football Union received 25% of the gate takings.

August 19th vs Canterbury

August 23rd vs Southland

1914 Otago played England at Carisbrook on the 19th of September.

1923 The first North Island vs South Island match was played in Dunedin, followed in September by the first New Zealand tournament. This later tournament was played at the North ground, Caledonian, and the Tahuna ground.

1924 Mrs R. Hudson elected Vice-President of the New Zealand Ladies Hockey Association.

1928 Otago Womens uniform was changed to dark blue caps with a gold tossle and a gold detail on the dress pocket.

1932 Mrs R. Hudson elected President of the New Zealand Ladies Hockey Association. In August the New Zealand tournament was held in Dunedin.

1935 The Otago team was; J. Anderson, M. Fisher, E. Symen, H. Robinson, J. Arnott, A. Harley, B. Campbell, J. Thomson, A. Mackie (captain), N. Cannon, R. Warburton. A. Mackie became Vice-Captain of the New Zealand team to play Australia in New Zealand. This was the first New Zealand representative from Otago.

1936 The Otago team played Fiji on 18th July as a curtain raiser to an Otago Rugby Football Union match. The Otago team was; D. Brunan, R. Burt, Rnen Wilson, N. Cannon, M. Bewly, A. Mackie, R. Warburton, E. Sonntag, A. Healey, H. Johnson, L. McNeur, M. Fisher, K. Augel.

1938 On the 25th June Otago played England on Carisbrook. England won 9-0. The Otago team was; J. Anderson, E. Symonn, M. Fisher, A. Mackie, H. Robinson, B. Campbell, L. Thompson, J. Arnott, A. Harley, N. Cannon, R. Warburton, B. Andrews, M. Kerr.

1940 A visit by the Australian Womans team was cancelled by the war.

1941 Rene Wilson was the manager of the Otago A team, while Mrs G. Nelson was appointed President of the New Zealand Womans Hockey Association.

1943 Rose Quaid on the executive of the Otago Womans Hockey Association.

1945 At the Dominion tournament in Auckland in September Otago won all 7 matches, scoring 28 goals and conceding only 8.

1950's During this period afternoon tea was provided at the Oval and a trolley was taken out to the umpires between matches. The cost was 6d.

1951 Otago won their tournament by beating Eastern-Southland 2-1 in the final. Mrs E. Sonntag was President of the New Zealand Womans Hockey Umpires Association.

1952 T. Sew Hoy was nominated on to the O.W.H.A. Mrs Rose Quaid was a South Island Selector. Otago nominated E. Bain, E. Brownlee, P. Hendry, M. Ives and W. Middleton for the New Zealand team. In December, Otago and other Associations strongly objected to the N.Z.W.H.A. appointing the 2 NZ team managers to Great Britain as the delegates for NZ. At the NZ tournament in Gore it had been overwhelming decided by delegates that the 2 umpires travelling with the team would be the NZ delegates. This lead to a long feud which lasted several months.

1955 Otago played Australian Universities at Carisbrook. Admission was 2/6 for an adult and 1/- for a child.

1956 Otago shared the K Cup. Otago played Holland and Scotland in Dunedin.

1962 Otago won the Dominion tournament and the K Cup in Dunedin.

1967 Marie Donnelly was captain, and M. Hiha, P. Forrester and M. Bruhns were members of the New Zealand team to tour Germany. Marie Donnelly was named Otago Sportsperson of the year.

1969 Otago was runner-up in the K Cup.

1971 Otago played the USA on the 7th August and Germany on the 11th September at the Caledonian Ground, Dunedin prior to the IFWHA tournament in Auckland. The Otago team was; J. Boyd, L. Ayson, V. Cashmere, G. Smyth, P. Lunn, P. Davies, N. Hely, M. Jenkins (captain), K. Neame, A. Smith, B. Patterson. Jenny Bint married Rex McDonald in September 1971, and was later nominated Sportsperson of the Year.

1972 New Zealand trialists from Otago were J. Boyd, M. Bruhns, M. Stringer, J. McDonald, P. Lunn. Otago played the New Zealand Universities on 19th August, and a New South Wales touring team.

1974 Otago lost to Hawkes Bay 0-1 in the final of the K Cup. Otago conveyed to the NZWHA that Munich was too far away to be able to attend the Olympics.

1975 Otago players P. Lunn, M. Jenkins and J. McDonald in the NZ team.

1976 Otago won the K Cup tournament in Dunedin. K. Bruhns received her badge.

1984-6 Otago won the Junior Womans tournament for 3 years in a row.

1985 Alice McGregor made a life member of the NZWHA.

1986 Jenny McDonalds name forwarded to the QB Honours list (declined). Jenny McDonald made a New Zealand selector.

1987 A trust (T.O.A.S.T.) was set-up to build Otago's first sand turf.

1988 Myrie Jenkins made a NZ Hon. Vice President.

1989 Myrie Jenkins made a NZ life member and an under-21 selector. The $30,000 loan to T.O.A.S.T. was changed to a grant. The institute of sport was set-up at Taieri High School. A match between NZ and Japan opened the new turf in Dunedin.

1990 The balance of the O.W.H.A. funds given to T.O.A.S.T. to erect lights for the new turf.

1997 The trust, under Jenny McDonald, built the new facilities complex and water turf at Logan Park.