National Hockey Championship
2021 Otago Men's and Women's Teams: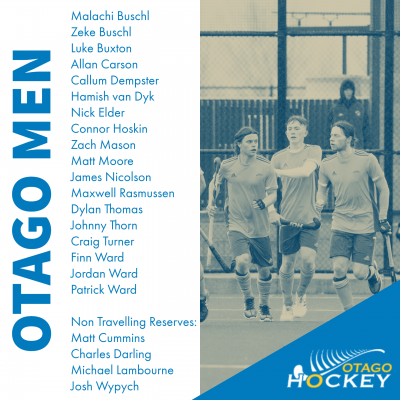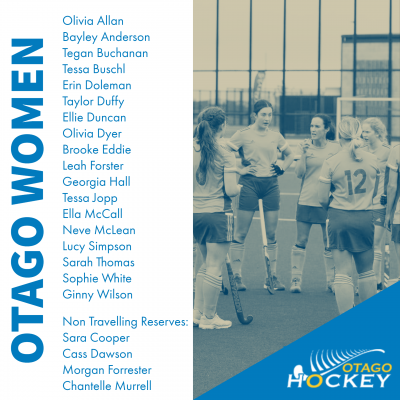 2021 National Hockey Championship information
National Hockey Championship Plan for 2021
OHA's plan for the NHC program is as follows:
Our plan is to select 2 teams to play in the Otago Hockey League on Sunday afternoon's during May.
These teams will be selected from club hockey performances.
We would like each team to have a coach and if possible, an assistant coach.
The games will be scheduled for 4.00pm
The teams will just play, there will be no training.
We would like these games to mimic what tournament could be like. We are looking to have the following:
Pregame team talks.
4 quarter games
After the games in debriefs
To continue with the work we did last year, there will be a real emphasis on team talks and debriefs/ reflection time after the games.
The format of this will be a 3-match series.
Selection will be based on performances during club games through April.
Teams will be announced on Facebook/ website and players will be emailed to make sure they are available to play.
Mainland Cup
The Men's and Women's teams will be selected through club hockey and following the Otago Hockey League, which will be held during May.
Mainland Cup to be held over Queen's Birthday weekend (5th-7th June)
Tournament
To be held in Tauranga from the 12th – 18th September 2021
A men's and women's squad will be announced after the Mainland Cup
*Important note if you are selected into the Mainland Cup team may not necessarily mean you will be selected into the NHC tournament team.
Training for the NHC will start in mid- June:
Squad trainings Tuesday evenings. Times to be confirmed.
Skills sessions will be held Thursday evenings. Times to be confirmed.
Games on a Sunday afternoon – 4.00pm
Build up games will be arranged and played during July and August.
Cost for the tournament will be announced in the coming days.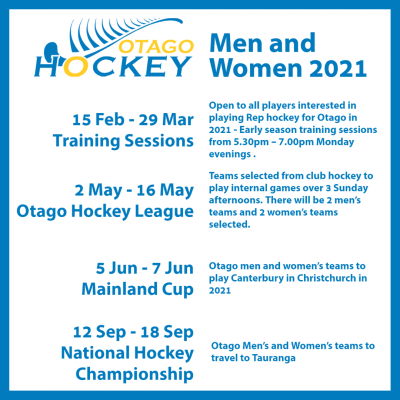 Any questions on the above please contact Hymie at hockey@oha.org.nz