2019 Boys Secondary School Winners
20/8/2019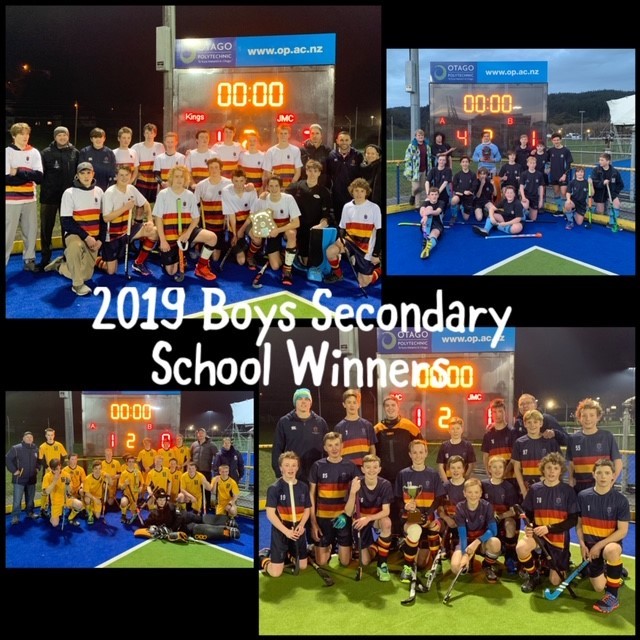 The 2019 Otago Hockey Boys Secondary School finals were completed on Tuesday with the champions crowned after a goal being scored with less than 1 minute left on the clock.
Congratulations to the following title winners for 2019.
Division 1- John McGlashan College 1st XI
Division 2-JMC U15A
Division 3- Taieri College 1st XI
Division 4- Kings Juniors
Thank you to all the players, coaches, team managers, umpires and supporters who have made the season a success.
Team placings for this competition as follows:
Division 1
JMC 1st XI
Kings Lions
OBHS 1st XI
Division 2
JMC U15A
JMC 2nd XI
Tokomairiro 1st XI
Kavanagh College 1st XI
OBHS Blue
LPHS 1st XI
Kings B drew with OBHS 2nd XI
Division 3
Taieri College 1st XI
SOHS 1st XI
Bayfield Seniors
JMC Red
OBHS White
LPHS Colts
JMC Blue
Kings 3rd XI
EOHS Mixed
Kavanagh 2nd XI
Division 4
Kings Juniors
Bayfield/ KVC
SOHS 2nd XI
Bayfield Juniors
OBHS Gold
JMC Gold
LPHS Mixed drew with Taieri College 2nd XI
View More News