Otago Hockey U18 Pathway Program 2023
7/2/2023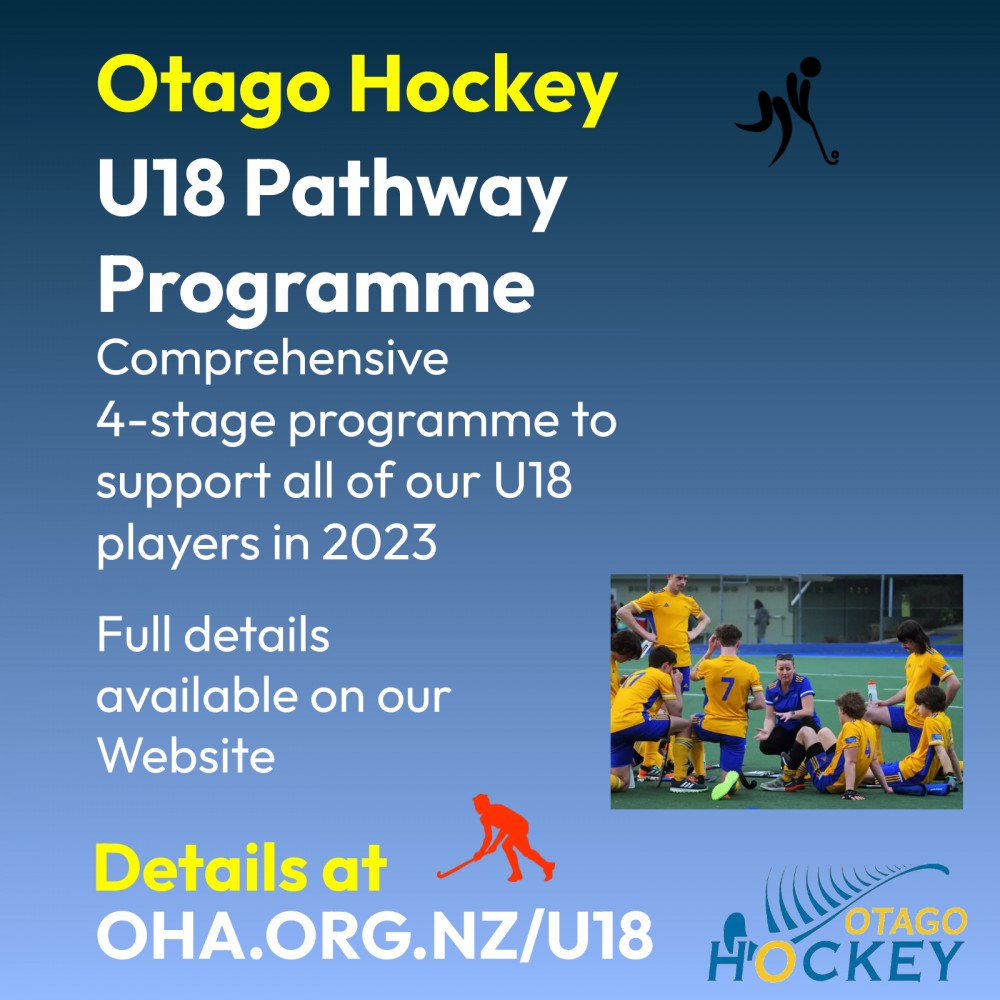 Otago Hockey U18 Pathway Program 2023

Below is an outline of the U18 program for the 2023 season. We want to make sure we give our players every opportunity to perform on the national stage.

We would like you to register your interest in being involved in the U18 Program even if you are unable to attend Stage 1 of the program.
Click Here to Register.

Obviously being able to commit to all Stages of the program is the ideal, if this is not possible you will still have an opportunity for selection. If there is any questions around what you may or may not be able to attend please make contact with Hymie at hockey@oha.org.nz

The U18 Representative program will follow 4 stages in 2023.

Stage 1
Training/ Upskill training sessions.

These sessions will be run from the 13th February – 3rd April. There would be a cost to this of $125
This can be payable to OHA account:
03-0905-0460917-10
Payment plans are available please make contact with Hymie at hockey@oha.org.nz

Session times:
• Monday evening from 4.00pm – 5.30pm

Stage 2
Internal Game Play - The Highland Cup

• The plan is to have the players involved in the training sessions put into teams to play against each other over a 3 game series.
• The games would be played over 3 Sundays in April/ May:
o 23rd April
o 30th April
o 7th May

• To be considered for these games, ideally, we would encourage players to attend Stage 1 the training/Upskilling sessions.
U18 Teams named 8th May.
If you are not selected in the Otago team there will be opportunities to play for another local association. Please keep this in mind.

Stage 3
External Game Play - The Wakatipu Shield

• We are scheduled to play teams from Southland and Central Otago on the 14th May
• Teams will be selected from the Internal Game Play - The Highland Cup

Stage 4
Mainland Cup

• From the Wakatipu Shield teams we will be selecting the Mainland Cup squad to prepare for these games.
• Mainland Cup is on King's Birthday weekend June 5th, 6th & 7th in Dunedin

Tournament
• 2nd – 9th July
• Men – Dunedin
• Women – Auckland
Any questions regarding the program please contact Hymie at hockey@oha.org.nz



View More News