Otago Men Win National Title
6/10/2022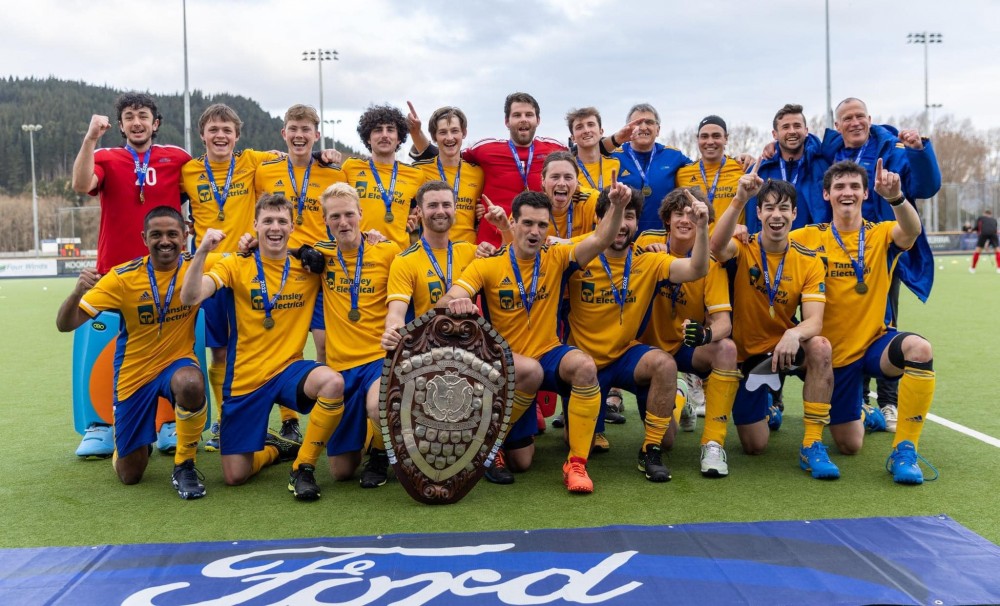 OTAGO CLAIM FIRST NATIONAL TITLE ON HOME TURF
A fantastic crowd at the McMillan Hockey Centre in Ōtepoti Dunedin has been treated to a spectacular final day at the Ford National Hockey Championship (NHC), the first association based national tournament in more than 25 years.
Capping of a special day and a fantastic event was the efforts of the Otago Men who claimed the National Title and are the holders of the Challenge Shield for for the first time in it's 114 year history.
The crowd was at capacity for the final, as our local hopefuls took on pre-tournament favourites Wellington in the Tier 1 Men's gold medal match. Both sides had a feeling of what to expect after playing each other in pool play just a day before – Otago winning that clash 1-0.
In the final, the sides couldn't be separated in the first quarter as both teams created chances but couldn't convert. The match then turned on its head in the second, as Otago scored 3 goals (Dylan Rhomas, Finn Ward & Jordan Ward) in 10 minutes to take a strong lead into the half-time break. Otago scored again through Craig Turner in the third to make it 4-0 with 20 minutes to play.
A fightback was always on the cards for Wellington, with Graeme Murrell scoring two minutes later and captain Dane Lett scored his third penalty corner goal for the tournament in the 54th minute to make it 4-2.
It proved too little, too late, for the men from the capital, as the locals held on for an historic victory at home while chants of "Otago" rang through the crowd.
View More News