Teams announced for Men's and Women's North v South Series
3/5/2021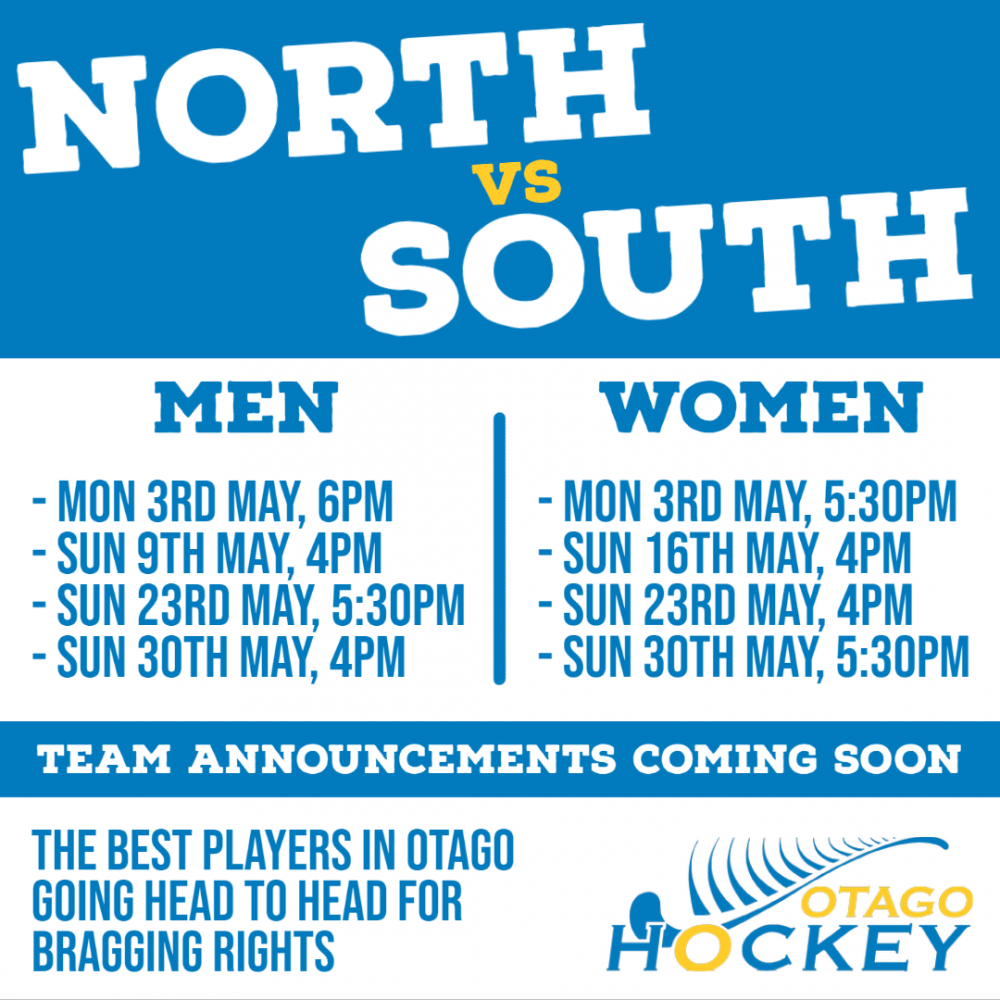 Teams announced for Men's and Women's North v South Series
We're thrilled to announce the teams for the 2021 iteration of the Otago Hockey League: North v South.
The teams have been selected from the first few weeks of Club Hockey, congratulations to all selected.
The series kicks off tonight with the Women going head to head at 5:30pm and the Men at 6pm. Come on down to the turf and check out some action between the best players Otago has to offer!
Women's Teams:
Women's North Team
Women's South Team
Player
City
Club Team
Age
Player
City
Club Team
Age
Hayley De Graaf
Whangarei
Kings
23
Ginny Wilson
Middlemarch
City
26
Abby Halpin
Hamilton
Momona
19
Louise Nicolson
Dunedin
Taieri
21
Cass Dawson
Wellington
Taieri
20
Georgia Allardice
Zimbabwe
City
19
Maddie Peel
UK
Kings
20
Taylor Duffy
Oturehua
Momona
20
Phoebe Pottinger
Wellington
Taieri
18
Tessa Buschl
Dunedin
Momona
19
Sara Cooper
Wellington
University A
20
Ella McCall
Gore
Momona
19
Nicole Strawbridge
Gisborne
Momona
22
Lucy Simpson
Christchurch
University A
20
Neve McLean
Hamilton
Momona
24
Tegan Buchanan
Cromwell
City
21
Brooke Eddie
Wellington
City
20
Pippa Croft
Whangarei
University A
18
Keita Elliot
Auckland
Momona
18
Sophia Kirsten
Nelson
City
18
Georgia Ronowicz
Hamilton
University A
18
Erin Doleman
Alexander
Taieri
34
Leah Forster
Wellington
City
19
Abby Lennon
Christchurch
Momona
20
Adyn Dudley
Whangarei
University A
17
Olivia Allan
Balfour
City
21
Georgia Hall
Auckland
University A
20
Bayley Anderson
Christchurch
City
20
Lily Bentall
Wellington
Taieri
22
Bex Clemenston
Nelson
Momona
22
Isobella Ng
Auckland
University A
20
Morgan Forrester
Whangarei
City
19
Maria Mayerhofler
Auckland
Kings
19
Louisa Collerton
Christchurch
Taieri
20
Chantelle Murrell
Wellington
Taieri
23
Kate Kirsten
Nelson
City
23
Meila Eades
Tauranga
Taieri
20
Men's Teams:
Men's South Team
Men's North Team
Player
City
Club Team
Age
Player
City
Club Team
Age
Felix McIntosch
Christchurch
Albany
20
Allan Carson
Wellington
University A
22
Matt Moore
Christchurch
Albany
30
George Wood
Hamilton
University A
21
Jakob Annison
Dunedin
Albany
21
Jaiden Chhika
Wellington
Kings
21
Joseph Yoon
Christchurch
Kings
21
Michael Lambourne
Auckland
University A
20
Jordan Ward
Dunedin
Taieri
23
Hitaua Arahanga-Doyle
Christchurch
Albany
29
Zeke Buschl
Dunedin
Taieri
18
Callum Dempster
Auckland
University A
21
Rory McLean
Dunedin
Kings
30
Devanand Bhika
Wellington
University A
20
Finn Ward
Dunedin
Taieri
20
Conner Hoskin
Wanganui
Kings
18
Zach Mason
Dunedin
Kings
21
Luke Buxton
Auckland
University A
20
Dylan Thomas
Dunedin
Kings
21
Craig Turner
Wellington
Kings
22
James Nicolson
Dunedin
Taieri
18
Jakob Bell Kake
Auckland
University A
18
Ronan McNeill
Invercargill
Kings
19
Trey Lincoln
Hamilton
Albany
18
Chris Hill
Alexandra
Taieri
21
Josh Wypych
Wellington
University A
21
Nick Parata
Dunedin
Albany
20
Opeti Tuimana
Palmerston North
Albany
21
Charles Darling
Dunedin
Kings
24
Felix Creighton Syme
Tauranga
Taieri
18
Thomas Hatherly
Dunedin
University A
23
Jason Dungey
Dunedin
Kings
Jarrod Casey
Dunedin
Taieri
26
Liam Smith
Auckland
University A
19
Matt Cummins
Christchurch
University A
22
Sam Taylor
Christchurch
University B
22
William McNaughtan
Wellington
Kings
20
View More News