Club (Adult)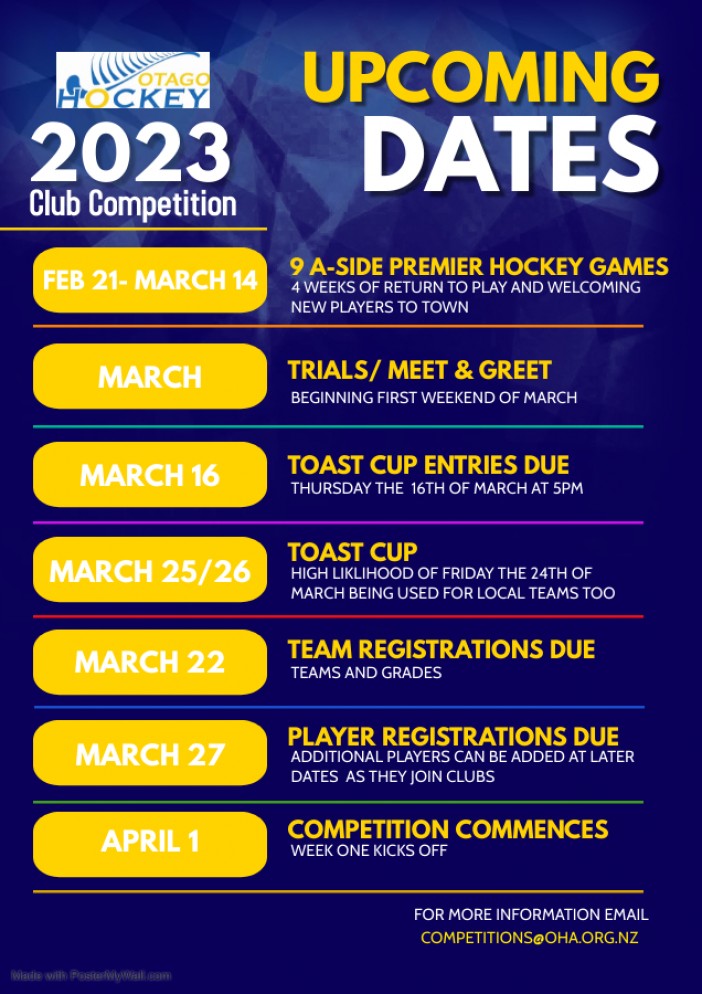 2023 Season Dates and Calendar
 Club Trials                                                                  Trial 1            4th /5th March 2023
                                                                                                        Trial 2            11th /12th March 2023
                                                                                                        Trial 3            18th /19th March 2023
Club team entries due:                                       22nd March 2023
Player registrations due                                    27th March 2023
TOAST Cup                                                                                   24th/ 25th/ 26th March 2023
TOAST Entries due                                                 15th March 2023
OHA AGM                                                                       28th March 2023 at 7.00pm
Competition will run for 16 weeks plus a finals weekend as follows:
Week 1                 1st/ 2nd April
Week 2                 15th/ 16th April
Week 3                 22nd/ 23rd April
Week 4                 29th/ 30th April
Week 5                 6th/ 7th May
Week 6                 13th/ 14th May
Week 7                 20th /21st May
Week 8                 27th /28th May
Queen's Birthday (No Hockey)
Week 9                 10th /11th June  
Week 10         17th /18th June
Uni Break
Week 11           8th /9th July
Week 12          15th /16th July
Week 13           22nd /23rd July
Week 14           29th /30th July
Week 15           5th /6th August
Week 16 semi-finals 12th/13th August
Mid-week semi-final for Prems 16th August      
FINALS         19th/ 20th August
OHA Prizegiving- 20th/21st August after conclusion of finals
Transfers between Association to Association are done via your clubs and the Competitions Manager. Please feel free to contact Bonnie at competitions@oha.org.nz if you have any any further questions regarding this.
You can find the 2023 Club Handbook click here
. Please ensure that your Club's team coach and manager has read the handbook prior to the start of the competition so that they are informed regarding the rules and expectations. (2023 handbook is being finalised).
The Club Training Schedule for 2023 will be released in due course.
Quick reference policies/forms can be found below:
Game reschedule form can be found here
Injury/Incident report form can be found here. This MUST be completed for all serious injuries within 48 hours of the game.
You can find the FIH 2022 Rules of Hockey here
For all the latest Otago Daily Times Hockey articles, click here!