Junior
Small Sticks

ActivePost Small Sticks is the nationally branded junior hockey participation programme developed by Hockey New Zealand in consultation with youth sport experts. It has been introduced to Otago and the whole of New Zealand to great success.

The aim of Small Sticks is to attract children (aged 4-13) into hockey and foster a lifelong love of the sport through a games-based approach built on skill development. Some players may make our national teams and compete on the world stage, while others may participate in the sport for the rest of their life. Small Sticks provides progressive stages for children new to hockey and let'sthem play a modified games at a level commensurate with their ability, with the correct equipment and in the appropriate game format.

Small Sticks will initially develop each child's basic fundamental skills - throwing, catching, hitting and exercise - through the Fun Sticks module aimed at introducing children in Year 1 and 2 to hockey. Children will then progress through the stages of game and skill development, set out in the table below.

Mini Sticks and Kiwi Sticks are on Wednesdays after school, and Kwick Sticks is on Fridays and Mondays after school.

Competitions are still being finalzed for the 2019 season but normally begin in May and breaks for July school holidays. Competitions normally finish in August.
The competition information and rules are in the Junior 2018 Competition Handbook HERE.
Otago Hockey will contact schools asking for team entries in Term 1 2019.
Matches are played on the all weather artificial turf at the McMillan Hockey Centre, and Queens High School. If other turf space is required Otago Hockey will organise it and inform all schools
For more information on the national ActivePost Small SticksProgramme, please click here.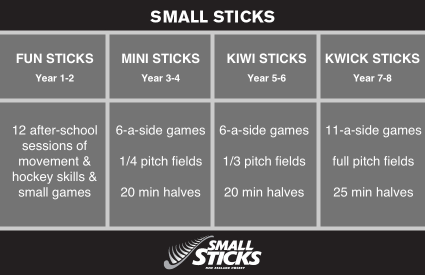 Fun Sticks
The Fun Sticks Hockey Programme is aimed at any "new" hockey players, generally in Years 1 and 2 at school.

The programme is not just hockey focussed, each hour long session contains fundamental movement skills, both with and without hockey sticks. We understand that young children's attention spans aren't too long, so we spend 8 to 10 minutes mastering different activities, before playing a game. The programme is 10 weeks long, and the children really improve in this time!

Otago Hockey provides the sticks and lighter hockey balls for Fun Sticks. Some parents prefer to purchase their children their own stick, as well as shin pads and mouthguard. These can be purchased at the McMillan Hockey Centre, GO HOCKEY SHOP.
Otago Hockey's Coaching Manager, will be looking after Fun Sticks this year. You can contact at coach@oha.org.nz or 03 474 9201.


Where:There will be two intakes this year and you can choose from either Term 2 & Term 3
Held in the Metro Indoor Sports centre (Monday/Thursday) & Logan Park School Gymnasium (Saturday)
When: There will be two intakes this year in Term 2 & Term 3 that you can choose from

#Note: Due to the facilities we have a maximum of 24 kids per day so get in fast if there is a particular day you would prefer


Dates
Term 2 intake
Thursdays 3:45pm-4:45pm (May 3rd-July 5th 2018) OR
Saturdays 9am-10am (May 5th-July 7th 2018)
Term 3 Intake
Mondays 3:45pm-4:45pm (23rd July to 24th September) OR
Saturdays 9am-10am (28th July to 29th September)
Cost: $75 for the 10 week programme and it also includes a tee shirt!
Register Here

Top orders need to be in 2 weeks before start date so please register before the school holidays!
MOSGIEL FUN STICKS 2018
Where: Held in the Taieri College ITC (Entrance on Green St, Mosgiel)
When: Fridays Term 2 From 4th May
Time: 3:30pm-4:30pm
Cost: $45

#Note: Due to the facilities we have a maximum of 30 kids so get in fast

Dates:
Session 1: 4th May
Session 9: 6th July
Register for the Mosgiel Fun Sticks HERE
WAIKOUAITI FUN STICKS 2018
Where: Held in the East Otago Events Centre, Waikouaiti
When: Wednesday Term 2 From 2nd May
Time: 3:30pm-4:30pm
Cost: $80

#Note: Due to the facilities we have a maximum of 30 kids so get in fast

Dates:
Session 1: 2nd May
Session 10: 4th July
Register for Waikouaiti Fun Stick click Here