Mark Knowles Coaching Clinic - Registrations Open
29/11/2018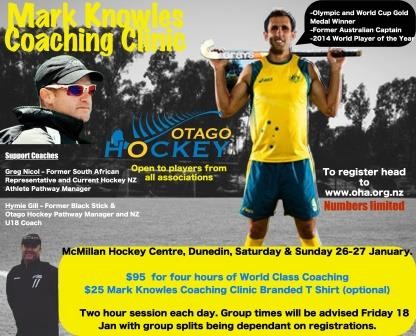 Otago Hockey is excited to confirm the services of Mark Knowles for a two day, world class coaching clinic .
Knowles is the recently retired Australian Captain who has Olympic and World Cup Gold medals as well as title of 2014 World Player of the Year to his name. Knowles has turned his hand to coaching and developed a fantastic reputation for passing on his extensive knowledge to the next generation.
Knowles will be in Dunedin for a two day coaching clinic on Saturday & Sunday the 26th and 27th of January 2019, Mark will be supported at this clinic by former internationals and highly respected coaches Greg Nicol and Hymie Gill.
Knowles will also be part of the OHA"s inaugural Golf Day on Friday the 25th.
This will be the first programme under the watch of new Pathway Manager Hymie Gill and a massive start to 2019.
This is open to players from all associations of all ages and level of ability. Groups will be split into similar ages and level of experience after we receive registrations.
Each participant will receive a two hour session on the Saturday and a second two hour session on the Sunday.
Register for Mark Knowles Coaching Clinic - Optional Tee Shirts available to purchase
To express an interest in being part of the Golf Day email manager@oha.org.nz.
View More News